Hey Dolls!
I saw pictures of La La on Kim Kardashain's blog from her Bachelorette party and I loved her makeup. It looked like a Olive green color topped with gold shimmer so I wanted to recreate this look for a night out.
Here's where I got my inspiration from
*image source:kim kardashian blog
Here's my final Look! Hope you enjoy!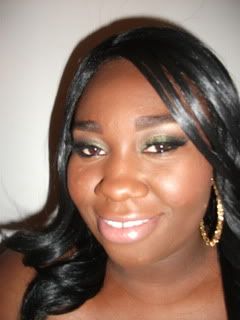 FACE
Moisturizer: Ambi Daily Moisturizer
Primer: MAC Prep + Prime
Foundation: Revlon Colorstay Liquid foundation in Cappuccino
Concealer: MAC Studio finish concealer NW45
Powder: IMAN Pressed powder in Deep and MAC Studio fix NW50
Highlight: NYX Pecan Blush mixed with MAC Evening Aura eyeshadow
Blush: MAC Pinch me blush
Contour: MAC Embark eyeshadow
BROWS
Maybelline Define-a-brow brow pencil in Dark Brown
Revlon Brow gel in Clear
MAC Espresso eyeshadow
MAC Studio finish concealer NW45
EYES
Primer: TFSI
Base: NYX Jumbo eyeshadow pencil in Black Bean
Lid: MAC Humid eyeshadow
Applied over Lid color: MAC Golden Olive Pigment
Crease: MAC Embark eyeshadow
Brow bone: MAC Texture eyeshadow
Highlight: MAC Ricepaper eyeshadow
Outer v: MAC Carbon eyeshadow
Liner: Maybelline gel liner in Blackest Black
Lashes: i-envy by KISS lashes in Au Naturale 03 (my favorites ;0)
Mascara: Maybelline The Falsies mascara
LIPS
Lipstick: MAC Freshbrew
Finish: L'Oreal HIP Shine Struck Liquid Lipcolor in Reserved
Thank you for stopping by my blog ;0)
xoxo
keisha