Hey Dolls!
I hope everyone had a great weekend!
I had a really good weekend. I did a lot of shopping with my mom this weekend, because as you guys know I'm in the process of moving. So before I move I've been racking up on things because where I'm moving to they don't have any stores that I shop at near by. My favorite places to shop are Forever 21, Windors, MAC, Sephora, Reflections, and Target. And where I'm moving to have none of these stores near by... Thank goodness for on-line shopping ;0)
Well let's get to the goodies I picked up...
FOREVER 21
At Forever I got a
Blue Blazer
for $22.80, a
Black Hat
for $6.80 (I got my mom one too, she loves hats) a
Black and white stripped Cardigan
for $12.50, a pair of
Jeans
for $14.50, a
Black dress
(not in the picture)for $13.80 and 2
Rings
.
STYLES 4 LESS
At Styles I brought a
Gray Sweater
for $16.99 and a
black wallet
for $11.99. I loved the wallet I thought it was a plain black wallet with ruffles but than when I opened the wallet it had a pink flower prints inside. So cute ;0)
TARGET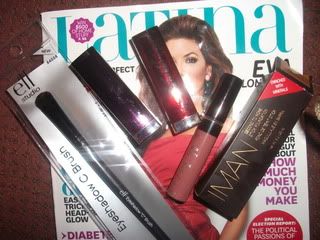 I made 2 trips to Target. On my 1st trip I brought
2 Maybelline Color Sensation Lipsticks
each for $5.04, an
e.l.f. eyeshadow brush
for $3.00, a
L'Oreal HIP Shine Struck Liquid Lipcolor in Reserved
for $10.00, and another
IMAN Second to None Stick Foundation in Earth 4
for $14.99.
For my 2nd trip to Target (I completely forgot to take a picture) I got some
e.l.f makeup remover wipes, e.l.f. brightening eyeliner pencil in Black, and e.l.f. Liquid eyeliner in Black
, another
e.l.f. eyeshadow brush
and 2
Wet 'n Wild eyeshadow palettes
for $4.99 each.
MAC
At MAC I just brought the new
MAC Pro Longwear Foundation
that everyone has been raving about! I will do a review soon.
I also went to Ross but I just brought a plan white long sleeve top and from Reflections I brought some Black suede boots for $20.00
I hope you Dolls enjoyed my Haul!
xoxo
keisha