Hey Dolls!
I am in LOVE, LOVE, LOVE with this foundation. I am a foundation junkie! I'm always trying new foundations because I have oily skin and find it hard for me to find a good foundation for me that doesn't streak, separate, or comes off after a couple of hours! Well, I can honestly say I've found one! The Revlon Colorstay foundation for Combination/Oily skin does wonders for me ;0) It blends smoothly on my skin, has great coverage, and stays on for hours!
I purchased both Cappuccino and Mocha, but I wear the Cappuccino shade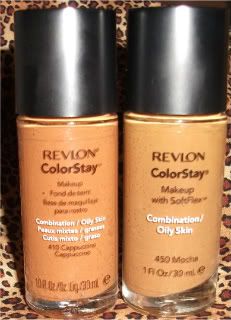 Here's a swatch of the shades
ADVANTAGES
* Great Price (between $11 and $14) for a Drugstore foundation- great quality foundation
* Great Coverage -can be applied sheer but you can build up the coverage
* Amazing lasting power -it stayed on for hours even when sometimes I forget my face primer
* Love that it comes in formulas suitable to your skin tone -they have a formula for normal to dry skin and one for combo to oily skin
* Feels light weight and not cakey or heavy at all
* Has a wide range of colors for Women of color -and can mix and match to create the perfect shade
*Great for photos - very photo friendly ;0) I love taking pictures in this foundation
DISADVANTAGES
Doesn't have a Pump -I absolutely love the foundation but I dislike the fact that it doesn't come with a pump :(
OVERALL
I LOVE this foundation! I wear it everyday, it stays on my skin for hours which I have never found a foundation to do so. I also love the coverage. I have alot of acne scars on my cheeks that I got 2 years ago and the Colorstay foundation covers them great. I also enjoy how smooth it feels on my skin it wasn't heavy at all, but still provided great coverage.
Thank you for stopping by my blog and Hope you enjoyed the review ;0)
xoxo
keisha
disclaimer: I purchased this product with my own money. I'm not being paid by anyone or any company, these are my own opinions and thoughts