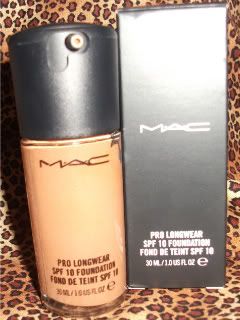 Hey Dolls!
A couple of weeks ago I decided to run to the MAC store and pick up there new MAC Pro LongWear foundation. I had been hearing nothing but great things about it! But before I ran out and bought it I did watched a couple of youtube reviews on it and read a couple of reviews. Everyone seemed to really be loving it and saying how it really stays on for 15 hours, so I was extremely excited. But on it me it was a completely different story...
...It was absolutely horrible on me :(
When i made it to the MAC store I first notice that the colors were way off. I'm a NW45 and the NW45 looked really, really light. In the bottle it looked like a peachy orange color, so I asked if I could test the shade out. It was extremely light on me and looked white. So, than I asked can I see a NW50 which in the Studio Fluid is super dark on me, but in the MAC Pro LongWear the NW50 was light like the NW45. I asked the MAC girl why are the shades so much lighter than the Studio Fluid and she said they weren't. So when she applied the NW50 on me it was white on me too. It looked horrible!! I decided to buy it anyways because I wanted to try it at home in natural light and give it some time to set in. I figured it would set in and change to the correct color on my skin after a couple of hours. So, when I got home I washed my face, applied my moisturizer and face primer, than later applied the MAC Pro LongWear foundation in NW50 to my face. It was absolutely horrible!!! It stayed white on my face!! I took a couple of pictures than took it off faster than you can say MAC! I didn't like it at all and will never wear it or buy it again. I'm just going to stick with my Revlon Colorstay foundation.
Here's a swatch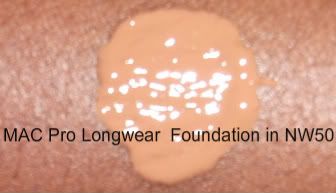 So, After hearing all these great reviews about the MAC Pro LongWear foundation I'm just wondering is it just me?? Am I'm the only one who feels this way?
Let me know what you Dolls think about the MAC Pro LongWear foundation?
xoxo
keisha
disclaimer: I purchased this product with my own money. I'm not being paid by anyone or any company, these are my own opinions and thoughts