Hey Dolls!
Happy Sunday!
I hope everyone has enjoyed there weekend!
Here's a FOTN look that I did Friday night when I went out, that I wanted to share with you. Hope you enjoy ;0)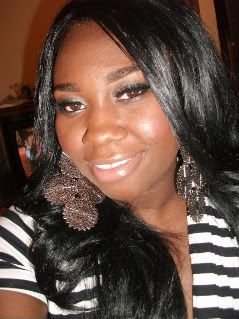 FACE
Foundation: Revlon Colorstay in Cappuccino
Powder: IMAN Oil Blotting Pressed Powder in Deep
Blush: MAC Mineralize blush in Grand Duo and MAC Pinch me blush
BROWS
Maybelline Define-a-brow in Dark Brown
MAC Studio finish concealer NW45
Revlon Brow gel
EYES
Primer: TFSI
Inner 1/3 Lid: MAC Silver Ring eyeshadow
Middle 1/3 lid: Wet 'n wild shimmery charcoal eyeshadow
Outer 1/3 lid: MAC Carbon eyeshadow
Crease: MAC Handwritten eyeshadow
Highlight: MAC Studio finish concealer in NW45
Liner: Maybelline gel liner in Blackest Black
Lashes: 2pair of Ardell Wispie lashes on each eye
Mascara: Maybelline The Falsies mascara
LIPS
Lipstick: MAC Freshbrew
Finish: L'Oreal HIP lipgloss in Reserved
Stay Blessed and Beautiful!
xoxo
keisha