Hey Dolls!
Maybelline came out witht this new mascara called "The Faslies". I finally got around to buying it a couple of weeks ago but I hadn't used it yet. Well, today I decided to use it and give you guys a quick little review on it.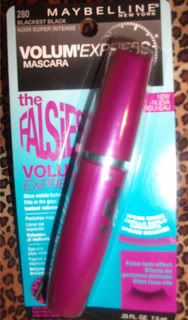 Product:
5 out of 5
Packaging:
5 out of 5
Quality:
5 out of 5
Would I buy it again?
Yes
Where to buy?
Target, CVS, Wal-mart, and any other store they sell Maybelline products
Pricing:
$5.00 I got mines on sale at Wal-mart

The Good
I really love the fuchsia and turquoise color of the tube! (Lol... turquoise is my favor color ;0) Maybelline always comes up with great colors for their tubes, like the Colossal Volum' Express tube was a bright yellow.
My lashes are very short and curly and I loved how the mascara made my lashes looked like I had a pretty good length and it straighten them out a little. I haven't been wowed by a lot of mascaras but Maybelline has always been a reliable mascara for me.
The Bed
I really didn't find anything bad about it. It worked just like any other mascara.
The Left eye has Maybelline The Falsies on it and the Right eye has no mascara
Overall:
My overall opinion is even though "The Falsies" mascara didn't make my real eyelashes look like false eyelashes I did still really like the mascara.
Thanks for stopping by!
xoxo
keisha