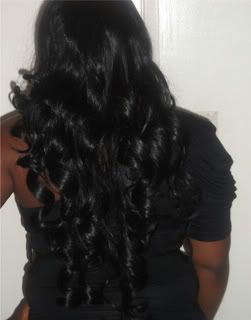 How was the packaging and the Shipping?
I ordered my Model Model Lace front wig the same time I ordered my Beverly Johnson one so it took about the same time to get here, around over a week or so. When she arrived it came in a plastic large bag, so the packaging wasn't to appealing.
What style and color is this lace front?
Tarah is super long and has wavy curls in it. The curls are not full barrel curls, they look more like waves. The length is 22-24 inches long. I feel you have to be bold and daring to wear Tarah, because she's extremely long. On myself, it reaches right at my butt. The color I ordered is #1 Jest Black. At first I was worried about ordering a jet-black synthetic wig because I was scared it was going to be too shiny, but the color looks great. It's not too dark or shiny.
How is your hair underneath?
My hair underneath I still wear the same way as I wear it with other lace fronts. Underneath the lace front I wrap my hair and place a wig cap underneath than I use the combs from inside to properly apply the lace front. It comes with combs inside the lace front, this way you can securely place the lace front on and not worry about it sliding or coming off. I personally like to use to bobby pins on each side of the lace front to make sure that there wont be any sliding or shifting of the lace front.
Can you apply heat to it?
As instructed you can apply heat to this unit. It says you can apply up to 400F. Well, when I tired to apply heat to it, it didn't even do anything! It basically wouldn't straighten. I was so frustrated because I was trying to straighten it because the curls are so frizzy and it wouldn't straighten.
How much did it cost?
This unit cost $59.99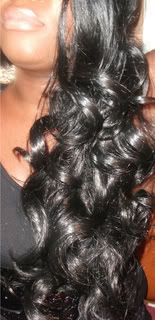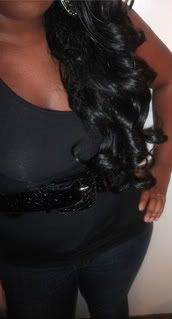 How would you describe the lace?
The lace on this unit is not as great as the Beverly Johnson lace front, but it's not so bad either. The lace color is brown so that it can look invisible on the skin, but if you get a little close you can actually see the lace still. Which in my opinion isn't good.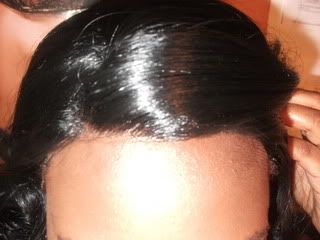 How was my overall experience?
My overall experience I have to admit sucks! I've had this lace front over a month now and I've only worn it twice and both times it was extremely frizzy and very tangled. Actually when the lace front first arrived to my house I notice it was already frizzy and tangled before I even took it out the bag. I also didn't like the fact that it was very thin. To me it was shoestring thin and for myself I like fuller hair. I was disappointed because this was the first lace front I've ever owned and it was the first time I've ordered hair online, so I really was hoping that everything would go well. If I had to purchase this unit all over again I wouldn't buy it again.
xoxo
keisha