Hey Dolls!
Happy Sunday Everybody!!
Well, tonight I had Communion at my church, so I decided to use my old faithful mac
Amber Lights
eyeshadow. Me and Amber Lights go wayyy back... This was the first eyeshadow color that I ever got from MAC and I got my first eyeshadow my senior of high school. I wore Amber Lights for 3 years straight! Lol At the time I didnt know what other colors to use so I wore Amber Lights and Handwritten for 3 years straight!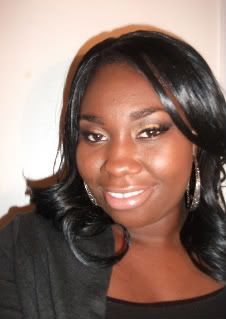 Products Used:
FACE
Revlon PhotoReady Foundation in Cappuccino & Mocha
MAC Studio Tech NW45
MAC Studio Fix NW50
EYES
TFSI
NYX Jumbo Eyeshadow pencil in Gold
MAC Eyeshadows- Amber Lights (Lid) Embark (crease) Carbon (outer v) Ricepaper (highlight)
Maybelline gel liner in Blackest Black
MAC Power point eye pencil in Engraved
Red Cherry #43
BROWS
Maybelline Define-a-brow pencil in Dark Brown
LIPS
MAC Freshbrew lipstick
MAC Revealing Lipglass