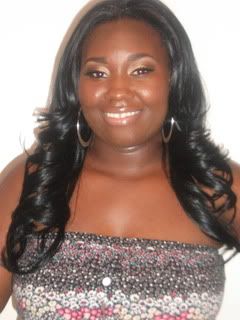 How was the packaging and the Shipping?
I ordered the Beverly Johnson "Briteny" Lace Front wig from lhboutique.com. The package took a while to get here, it took over a week. When the package arrived it came in a yellow box with the Beverly Johnson logo on the box. I really loved the box it came it and I thought it was packaged very well.
What style and color is this unit?
Britney is full of layered curls and it comes a little bit past your shoulders. The length is 16-18 inches and the color is #1 and 1 is a Jet Black. The curls are very bouncy and very soft. I really like the texture of this unit because it's doesn't feel Synthetic at all, it's very soft. I've been wearing this unit since September and I have not experience any frizz and minimal tangles. I've hardly had any tangles with this unit, which I love. I don't like to put any product in my lace fronts, but what I do use is a paddle brush. I don't use a comb because a comb can change the form or shape of the curls, so I just use a paddle brush.
How is your hair underneath?
Underneath the lace front I wrap my hair and place a wig cap underneath than I use the combs from inside to properly apply the lace front. It comes with combs inside the lace front, this way you can securely place the lace front on and not worry about it sliding or coming off. I personally like to use to bobby pins on each side of the lace front to make sure that there wont be any sliding or shifting of the lace front.
Can you apply heat to it?
You can apply heat to the lace front as long as it's between 356F –392F as instructed. I personally haven't applied any heat to this lace front so I can't tell you how it turns out. I really don't want to apply heat to it because I absolutely love the curls in it so I don't want to change them.
How much did it cost?
This unit cost $69.99
How would you describe the lace?
The lace is great on this unit. The lace color comes in a brown shade which works perfect with my skin tone. The lace is very invisible and blends into the hairline really good. When I first applied the lace front I was amazed how the lace disappeared into my skin. I don't bond, glue, or tape down my lace fronts. I just use the combs that are already supplied and bobby pins. I feel gluing or taping the lace front down keeps you from being able to play around with different styles and textures of lace fronts.
Here are up close pictures of the invisible lace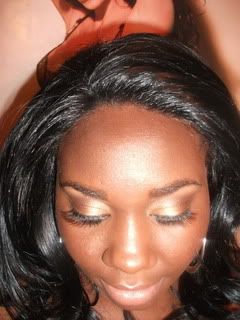 How was my overall experience?
It's been a month now and I really love this lace front. I wear it almost everyday and I wear it everywhere. So, I have no complaints ;0) The layers in it are perfect. I have a round face and the layers in this unit makes my face a whole lot slimmer and that's a huge plus with me. I love the texture as well, the hair is extremely soft and I love how full it is. I was nerves about the lace front being thin, but to my surprise it is very full and thick which love.
This was my first Lace front wig review and I hope it was helpful. If you have any more questions that I didn't answer please leave your questions below and I will answer them.
xoxo
keisha