Hey Dolls!
Okay so it was a Friday night and you guys know what I was doing…
…CLUBBING!!
Hahaha yeah right, I was at church. Last Friday my church had a faith conference and I went. It was really fun! We sang, dance, and learned some word! I really enjoyed myself. Ok, so on to my makeup.
My Makeup
I decided to do a dark silver look and smoke it up with some black. And of course I went with my favorite lip combo, a nude lip.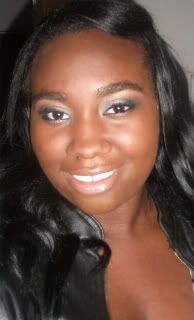 I started off by priming my eyes with
Too Faced Shadow Insurance Primer
, than I added a white base (
NYX Jumbo Eyeshadow Pencil in Milk
) to make my the silver pop.
For my highlight I used a pale shimmery gold (
MAC Evening Aura Eyeshadow
). In my crease I used a light brown (
MAC Texture Eyeshadow
). I than applied a dark silver (
MAC Knight Divine Eyeshadow
) to my entire lid and used a light Silver (
MAC Silver Ring Eyeshadow
) in my tear duct. On my outer v I applied a matte black (
MAC Carbon Eyeshadow
) to smoke it up a bit. I lined my upper lashline with
Maybelline Gel Liner in Blackest Black
and I lined my water line with
Pur Minerals Eye Pencil in Onyx
. I didn't apply any lashes was in a rush, so I just added some
MAC Plush Mascara in Plush Black
.
On my face I applied my stick foundation (
IMAN Foundation Stick in Earth 7 and MAC Studio Foundation Stick in NW45
) and blend it with my MAC #190 brush. I than dust on some
MAC Studio Fix powder in NW50
.
On my lips I applied my favorite lippy,
MAC Freshbrew lipstick
and
MAC Mad Cap Lipglass
.
Kim Kardashian Inspired Look
Kim's Look:
My Look:
My outfit was inspired by a picture I saw of Kim Kardashian wearing a orange and gray top with black leggings, a gray jacket and some black heels and I remember I have an orange and gray top I brought way back in March with the tags still on it. So I decided to wear it, it's a silky top (I love silk tops) with some black leggings, I didn't have a gray jacket like Kim so I opted for my leather jacket and some black heels I got on sale at Forever 21.
Cheetah print Top- Girl Talk $13.99
Leggings- Forever 21 $4.99
Black Heels- Forever 21 $13.99
Leather Jacket- got a year ago and don't remember how much or where I got it from sorry :0(
'till next time Dolls and Thanks for stopping by!
xoxo
keisha