Hey Dolls!
I just wanted to share a quick makeup look I did last month. For some crazy reason I love wearing purple eyeshadow. I have no clue where it comes from because purple is not my favorite color! Crazy Huh?? lol
Well, a couple of months ago I went shopping for makeup and I brought a purple L'Oreal HIP eyeshadow duo. I got tied of wearing all my purples from MAC and since I didn't have a HIP one I brought it. And the VERDICT: I'm lovinggggg my Purple L'Oreal HIP e/s duos. I have 4 of them but my favorite one is called Sculpted. It's a light frosty purple and a dark purple. I love the 2 colors together.
I've been wearing this color combo way too much. Lol I'm pretty sure my sisters and friends are tired of seeing me wear purple eyeshadow! Lol But I cant help it!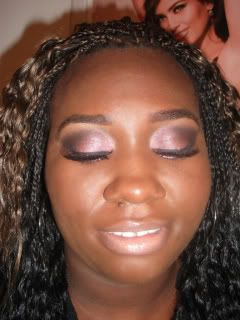 Products used (all MAC unless other wise stated)
FACE
Studio Tech NW45
Studio Fix NW50
Msf Deep Dark
EYES
L'Oreal HIP e/s duo in Sculpted (Light purple on the lid and the darker purple on the outer v and worked all the way into the crease)
Handwritten e/s (crease)
Carbon e/s (use to deepen up the outer v)
Arena e/s (highlight)
Stud eye brow pencil and Espresso e/s for Brows
Maybelline eye studio gel liner in Blackest Black
Pur Mineral pencil liner in Onyx
i-envy by KISS lashes in Au Naturale 03
LIPS
Freshbrew lipstick and C-thru lipglass
'till next time dolls!
Xoxo
keisha