Hey Dolls!
This was my first time doing prom makeup and Camille was my first actual client. I know Camille from church, we attend the same church and she asked me to do her makeup for prom. I was flattered and nervous at the same time. I was flattered because she said she like the way I do my makeup and I was nervous because I've never done anyone's makeup besides my sisters. I told her of course I would do it. I asked her to come by my house the week before and bring a picture of the dress so we can try a couple of looks. Camille and her family came over and we talked about what she wanted and I practiced two looks on her. She liked the first look because it was a lot lighter and softer than the second look. Camille is not really a makeup person so she wanted her cheeks and lip color to be very light.
Here's the final Look: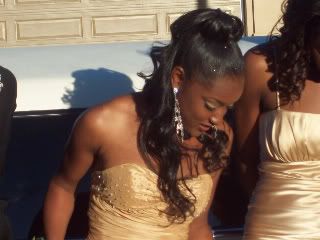 FACE
MAC Studio Sculpt Foundation NW45
MAC MSF in Deep Dark
MAC Blush in Gingerly
EYES
Goldmine e/s (Lid)
Handwritten e/s (crease)
Shroom e/s (highlight)
MAC Lquidliner in BlackBoot
"no-name" brand False lashes
LIPS
MAC Lipglass in Love Nectar
'till next time Dolls!