Hey Dolls!
Every one who knows me knows I love makeover shows, like What not to wear, Style her famous, and Look-A-Like. So, I decided to give my god-sister Breshia a makeover. I was reading Seventeen Magazine as usual and saw they had a new trend called Sexy Silver Eyes. In the magazine they stated silver eyeshadow was in. They had a picture of Alicia Keys and Jennifer Hudson wearing silver eyeshadow and they looked so elegant and beautiful. So, I thought for my sister's makeover I would try the Alicia Keys look on her. I found a cute little top for her and some cute earrings at Forever 21. I first began the makeover by of course taking a before picture of her, then I began to curl her hair. Which took almost 2 hours to curl. (gosh that girl has so much hair!) After her hair was all curled I began to do her makeup.
Here's a picture of Alicia Keys Look: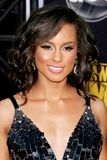 Here's Breshia's Before and After: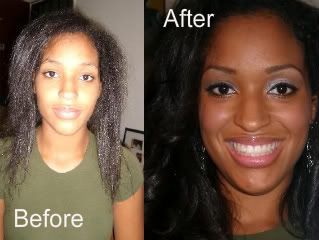 And here's her final look:
Here are the products used:
FACE
CoverGirl Queen Collection Natural Hue Foundaton in Classic Bronze Q710
MAC MSF in Dark
MAC Cream Blush in Brit Wit and MAC powder Blush in Blushbaby
EYES
MAC Shadestick in Beige-ing
MAC Silver Ring e/s (lid)
MAC Saddle e/s (crease)
MAC Brule e/s (highlight)
MAC Fluidline in Blacktrack
Brows- MAC eye pencil in Spiked and MAC embark e/c
LIPS
MAC Lipglass in Cultured
Sephora Lipgloss in Pink Ballerina
'til next time Dolls!