Hey Dolls!
Happy Thursday!
Yayy the weekend is almost here ;0)
Here's my Face Of The Night look from Tuesday night. I went to a Basketball game with my mom and sisters. For my makeup I was inspired by the colors in my scarf. I used a gold color, a copper, a purple, and some browns. Hope you enjoy ;0)
I had to take my pictures in the car, was running late!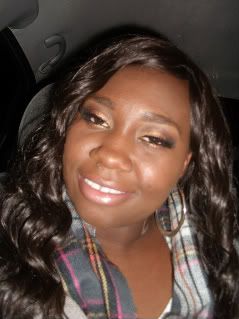 FACE
Foundation: Revlon Colorstay in Cappuccino and MAC Studio Tech NW45
Powder: MAC Studio fix NW5
Blush: MAC Raizin
EYES
Primer: TFSI
Tear duct: MAC Goldmine
Inner Lid: MAC Amber Lights
Outer Lid: MAC Antiqued
Crease: MAC Sketch
Brow bone: MAC Handwritten
Highlight: MAC Studio finish Concealer NW45
Outer v: MAC Carbon
Liner: e.l.f. liquid eyeliner in Black and e.l.f. brightening eyeliner in Black
Lashes: Ardell Demi Wispies
Mascara: Maybelline The Falsies
LIPS
Lipstick: Maybelline ColorSensation in Totally Toffee
Finish: NYX Sweetheart lipgloss
I'm not a huge sport fan (Lol ok I'm going to be honest I'm clueless when it comes to sports) but I did enjoy myself ;0)
I hope you dolls have a great day ;0)
xoxo
keisha