Hey Dolls!
Happy Thursday!
I wanted to share my Face of the Day look with you Dolls! Today I decided to wear Purples. I LOVE Purple eyeshadows ;0)
I want to say a
HUGE Thank you to everyone
;0) I mention that when I hit 20 followers I will be hosting a giveaway and I'm proud to say within this week I have reached over 20 followers! Yayyy!
You guys have truly touch my heart
. I just wanted to thank you all so much for all of your sweet comments and I'm really happy you guys like my posts!
I hope you're all having a great day!
On to the Makeup...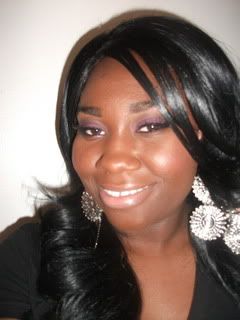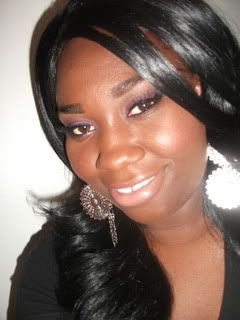 FACE
Foundation: Revlon PhotoReady in Mocha and MAC Studio tech NW45
Powder: IMAN Oil Blotting Pressed Powder in Deep
Blush: MAC Mineralize blush in Grand Duo and MAC LoveRush blush
EYES
Primer: TFSI
Tear duct: MAC Motif eyeshadow
Brow bone: MAC Texture eyeshadow
Lid: MAC Vibrant Grape eyeshadow
Crease and outer v: MAC Shadowy Lady eyeshadow
Highlight: MAC Motif eyeshadow
Liner: Maybelline gel liner in Blackest Black
Lashes: Red Cherry #43
LIPS
Lipstick: MAC Freshbrew
Finish: MAC Revealing Lipglass
xoxo
keisha