Hey Dolls!
How is everyone doing? I hope F-A-B-U-L-O-U-S!!!
This week is my last week of Summer School and I cant wait until it's over. lol
I saw this picture of Tia Mowry and loved her makeup. It's a simple smokey eye and I love to wear a smokey eyes but that's not what caught my eye. I loved how her cheeks looked! On her cheeks it looked like a combonation of Peach, Gold, and Bronze. It was so gorgeous and made her face glow. So, I wanted re-create that same look on my cheeks. I was nervous at first because I don't like shimmer on my face and when you have oily skin and blemishes on your face, shimmer can make them stand out more. But when I wore this look out everyone asked me what blush I have on. So I guess all in all the look was a success.
Here is Tia's Peachy Glow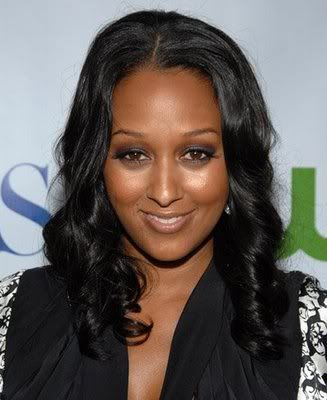 ...And here is my inspired look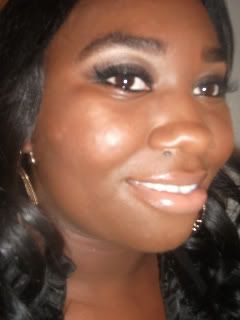 The Makeup (all products MAC unless other wise stated)
FACE
IMAN Foundation Stick in Earth 7 & MAC Foundation Stick NW45
Stuido fix powder in NW45 (for center of face)
Studio fix powder in NW50 (for the entire face)
Embark e/s (used for contour)
On my cheeks:
I first used
Wet n Wild Bronzer in Bali Bronze
(a light copper color with shimmer) on my cheeks. Than I applied
MAC Raizin Blush
(a reddishbrown peachy color) on the apples of my cheeks and I used
MAC Dreammaker eyeshadow
(a shimmery gold) as a highlight. I than took a clean Blush brush and blend the three together, so there wouldn't be any harsh lines.
EYES
Primer: TFSI
Base: NYX Jumbo e/s pencil in Black Bean
Lid: MAC Carbon eyeshadow
Crease: MAC Blunt Blush and MAC Embark eyeshadow
Highlight: MAC Arena eyeshadow
Liner: Maybelline Gel Liner in Blackest Black & MAC Liquid eyeliner in Boot Black
Lashes: Sassi lashes #82
LIPS
MAC Freshbrew Lipstick topped with MAC Mad Cap Lipglass
NYX Chestnut Lipliner
'till next time Dolls!
xoxo
keisha