Hey Dolls!
So, A couple of weeks ago I got this new lipstick from MAC called Girl About Town and I couldn't wait to try it out. I first heard about MAC Girl About Town Lipstick last year while reading Seventeen Magazine. One of the models had it on and they suggested it would be a great lip color for Valentine's Day. I would describe MAC Girl About Town as a very bright, hot pink. I love the color. I feel it came out so pretty against my skin tone and I would definitely recommend this lip color for other Women Of Color as well. I agree with Seventeen it is a good lip color for Valentine's Day and I also think it's a great color for going out on a date or out to the club. So, a couple Fridays ago I was going out and I wanted to wear my new lipstick so I did a bronze and brown eye, so my lips would be all the focus.
Here's a swatch of MAC Girl About Town
Let's get to the makeup...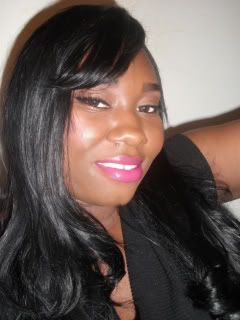 FACE
MAC Studio Tech in NW45
MAC Studio Fix in NW50
MAC msf in Deep Dark
MAC Mineralize Blush in Grand Duo
EYES
TFSI (Too faced shadow Insurance)
MAC Bronze e/s
MAC Swiss Chocolate e/s
MAC Arena e/s
Pur Minerlas eye pencil in Onyx
MAC Liquid eyeliner in Boot Black
Red Cherry lashes #43
LIPS
MAC Girl About Town Lipstick