Hey Dolls!
Well Last year in June I went to my first makeup workshop because since I decided I want to branch out and start doing makeup for Women Of Color I decided I needed to see if I had all the basics down. Well, to first start off I didn't to much enjoy the workshop but I was very grateful for the instructors time. I feel I didn't learn more than I already knew. I already know the applying process I really just wanted to learn more about eyeshadow placement, colors to combine, and bridal makeup. I basically wanted to learn what I paid for and I didn't. But I have to omit I had a lot of fun in the process. I took my sister, Shan as my model and she was great and very supportive. After the workshop the instructor said I did a great job and I'm very observant and I was proud of myself that I did a good job because I've never had any formal training. For right now, I am currently in the process of researching makeup schools because my goal for 2010 is to attend makeup school and become a better makeup artist.
Here's my finish look after the workshop: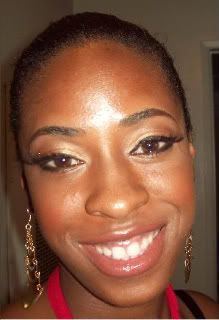 FACE
RCMA Foundation
MAC Studio Fix NW43
MAC Blush in Raizin
EYES
MAC Woodwinked e/s (lid)
MAC Handwritten e/s (crease)
MAC Liquidliner in Blackboot
MAC Fluidline in Blacktack
Brows- MAC eyepencil in stud and MAC embark e/s
Red Cherry lashes #43
LIPS
"no-name" brand pink lipgloss (used from the school)
So, I would love to know what your thoughts, questions, or comments on my work from my workshop!
'till next time Dolls